I am very fortunate to have a family that doesn't mind eating vegetarian every once in a while. I never really thought about it until I was out with a bunch of people last week. One individual pointed out that they were ordering vegetarian because they their significant other must have meat at every meal. To each their own. My kids have never complained about it because they don't know any different. We try to have a veggie meal at least once a week. It's a great way to use everything in the fridge and to keep your nutrition up to par.
These burritos don't need any meat. IF you stuffed anything else into these, they'd burst! Your taste buds don't need any more flavors either. Every bite is full of something!
What You Will Need:
Didn't end up using the green pepper.
¾ of a can of black beans, rinsed and drained
salsa
flour tortillas
Shredded Mexican Blend cheese
1 C uncooked quinoa
2 chicken bouillon cubes
2 C water
¼ sweet onion, sliced
1 large clove of garlic, chopped
1 vine-ripened tomato, diced
1 avocado, sliced
½ lime
½ tsp cumin
½ tsp ground coriander
¼ tsp chili powder
1 T olive oil
medium saucepan with lid
small skillet
1) Add quinoa, bouillon and water to saucepan. Bring to boil. Cover and simmer for 15 minutes.
2) Meanwhile, heat olive oil over medium-high heat. Add onion and garlic. Sauté.
3) Season quinoa with cumin, coriander and chili powder.
4) Add onion mixture, beans and tomatoes. Squeeze lime over top of quinoa mixture.
5) Assemble burrito with quinoa mixture, cheese and avocado.
6) Roll up and garnish with salsa and cilantro.
7) Serve.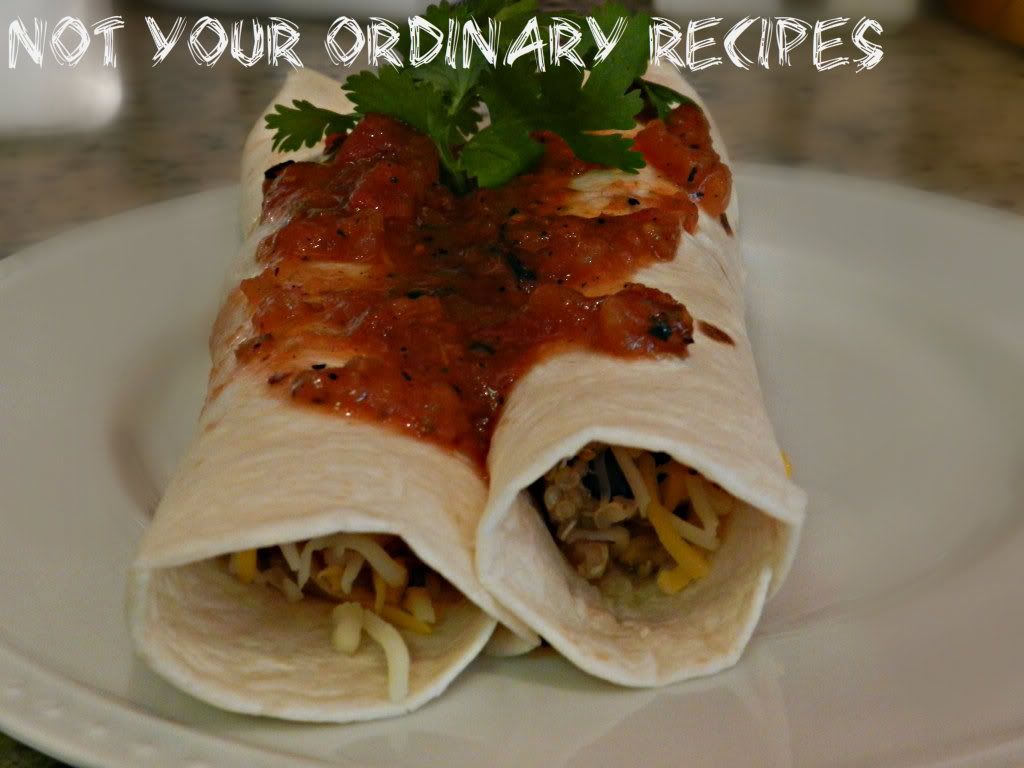 If you enjoy this recipe, please click on the badge and vote for #2!